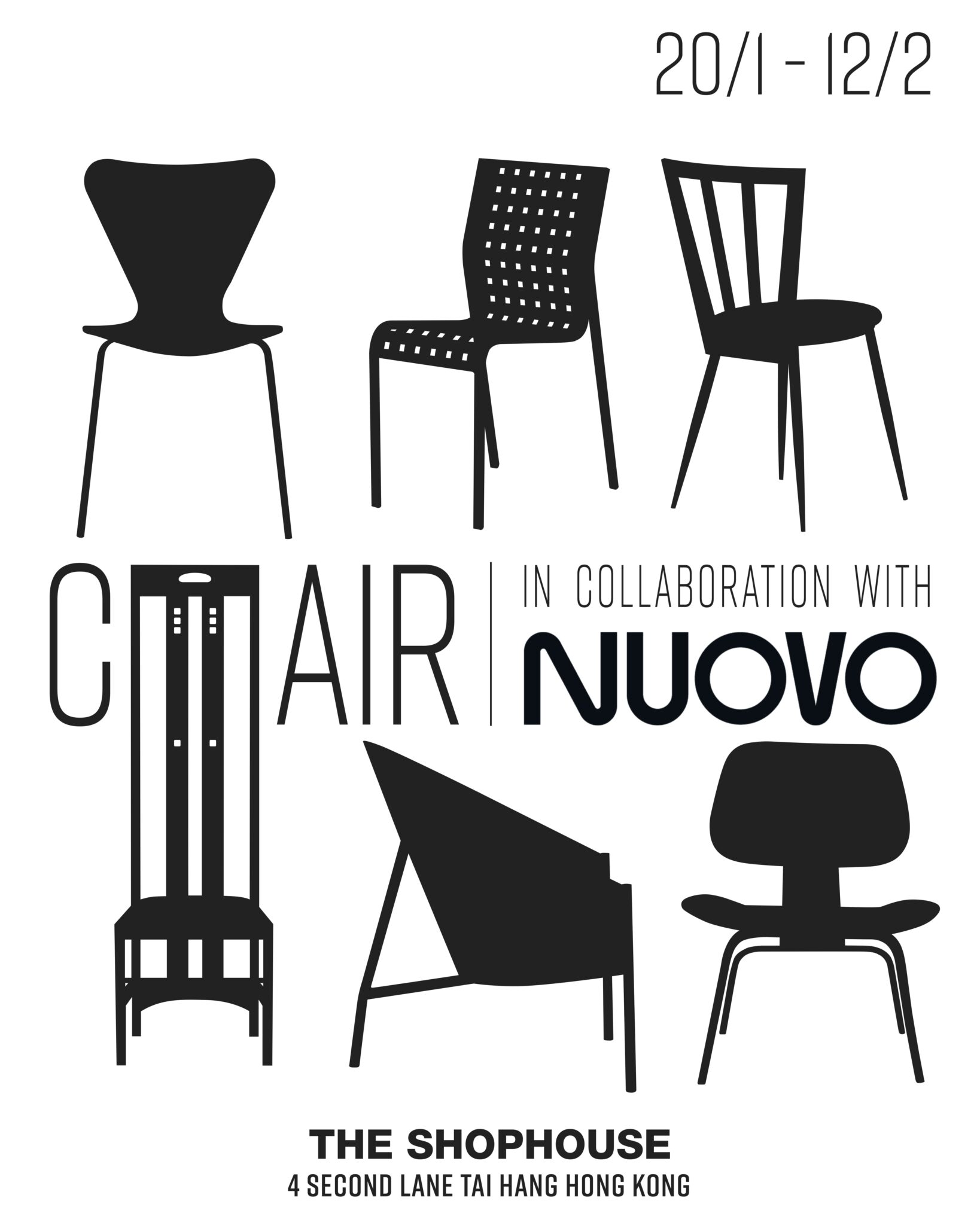 20 January, 2023 — 12 February, 2023
THE SHOPHOUSE is pleased to collaborate with NUOVO, a high-end furniture and lifestyle showroom, to present CHAIR, co-curating a selection of rare vintage chairs and contemporary artworks.
Chairs make up part of our everyday life, and often assimilate into one's life receiving little attention. It sits quietly in the corner of the living room or in a group around the dining table listening to conversations. However, it is the indistinctive and universal characteristic of chairs that proves their importance. From ancient to modern times, the nature of chairs remains unchanged: to sit a person. It is the ordinary nature of chairs that witnesses the change in society and technology.
The word 'Chair' derives from Latin 'Cathedra'. A chair was not simply an object of function, but the symbol of one's class and status. In ancient Egyptian tomb paintings, chairs were for the mighty and high status. Only lords, bishops or kings were allowed to sit on chairs with backs and armrests. The materials of the chairs also reflect one's social status and wealth. Civilians were allowed to sit on stools or ground.
In late 19C and early 20C, city planning would not only include streets and buildings, but also furniture within public buildings. One of the telling examples is the Jeannert chair by Pierre Jeanneret. Three years after gaining independence, the first Prime Minister of India would like to design a new Punjabi capital and commissioned renowned Swiss-French architects Le Corbusierto and Pierre Jeanneret to design the city, Chandigarh. The sturdy legs and bug-resistant Burma teak of Jeanneret chair were adopted to accommodate the scorching weather in India. Ironically, a chair that was meant to design for the Indian public is now coveted by collectors around the globe.
The exhibited pieces were selected from the 'Archive Collection', dating back to 1987 by NUOVO when they first opened. According to Pak Man Lee, the successor of NUOVO collection, furniture was often judged solely on its functionality in the early days. With the rise of online marketplaces such as Rarify and 1stDibs, the history and stories behind them are now accessible to the public. Unlike in the past, chairs are free from class and status, and become the embodiment of one's life and philosophy.